Do you need a weather station that is both precise and accurate? If so, the AcuRite 01512 might be the perfect option for you. This weather station is designed to provide you with accurate information about the weather conditions in your area. It features a variety of sensors that allow it to collect data about temperature, humidity, barometric pressure, and more.The AcuRite 01512 also comes with a display that shows you all of the information that it has collected. This display is easy to read and understand, making it a great option for those who want to be able to see the data that their weather station has collected.
If you are looking for a weather station that is both precise and accurate, the AcuRite 01512 is a great option for you. It is easy to use and comes with a variety of features that make it a great choice for anyone who wants to be able to track the weather in their area.
In this review, weather station experts will discuss the features of the AcuRite 01512 and how they can benefit you.
---
Do you live in an area with extreme weather conditions? If so, the AcuRite 01512 might be the perfect weather station for you. It is designed to withstand extreme conditions, making it a great choice for those who live in areas where the weather can be unpredictable.
Specifications:
The dimensions are 8.13 x 2.63 x 6.75 inches;
The weight is 5 pounds;
The battery-powered panel – requires 4 AA batteries;
Also the solar-powered panel;
Digital and color LCD screen;
Multifunctional 5-in-1 weather sensor;
Automated self-calibrated weather forecast – 12-24 hours;
Real-time alerts;
Weather Ticker streams;
Can measure indoor/outdoor temperature, humidity, wind speed, and wind direction;
Rain accumulation;
Heat index and dew point;
All-time, monthly, and weekly high/low records;
Wall-mountable and tabletop installation;
Wireless range is up 330 feet;
The data transmission is 18-36 seconds;
Automatic self-emptying rain collector;
Rainfall history;
Barometric pressure;
Future pressure;
The temperature range is -40F to 158F;
Strong wireless signal – 433 MHz;
Wind measurement is 100 miles per hour;
Wireless sensor array;
3 different settings of lighting panel;
---
PDF Manual for AcuRite 01512
Having trouble? Download PDF instructions for AcuRite 01512.
---
Pros and Cons of AcuRite 01512
The AcuRite 01512 is a top-of-the-line, self-calibrating weather station that provides accurate, real-time weather conditions. It features a large color LCD display with atomic color technology, allowing you to customize the weather forecast to your specific needs. The unit is also made in the United States, ensuring the highest quality possible. Additionally, it comes with an easy installation guide, making it a breeze to set up.
---
The Buyer's Guide
Main Features
Build Quality
The AcuRite 01512 is a well-made product. It's sturdy and should last for years. Some people may say that because the device does not use high-end materials, it isn't as high-quality as others in its price range. However, for a device that costs less than $100, it would be foolish to demand top-grade materials.
AcuRite has been in business for over 25 years and is a leader in weather stations. The company is based in the United States and manufactures its products domestically.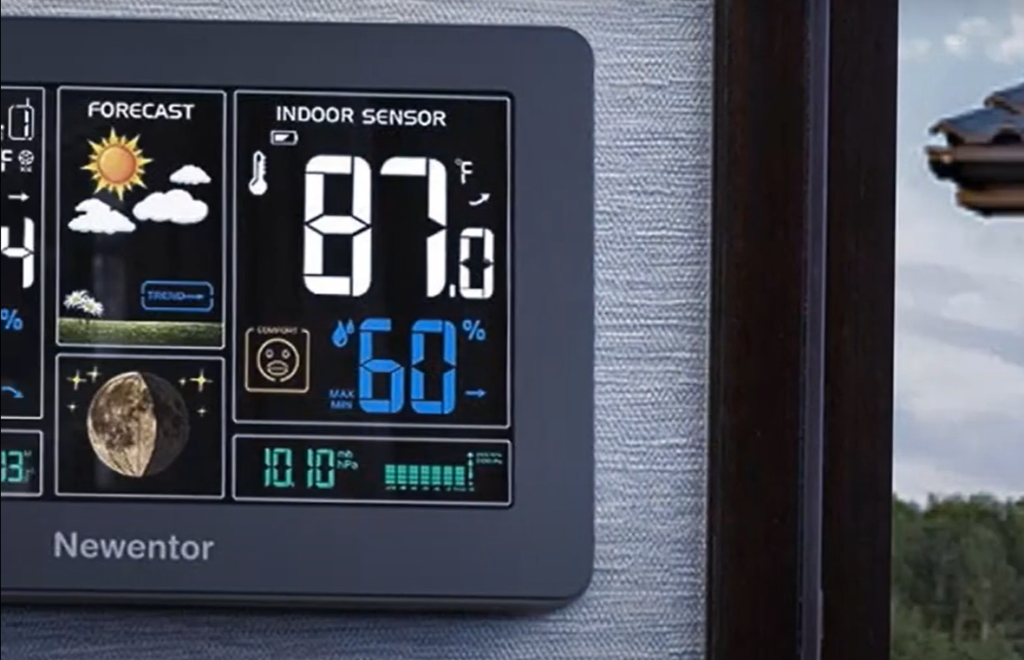 The 01512 model is one of AcuRite's more popular weather stations. It's a wired station, which means that you'll need to connect it to an AC outlet. If you don't mind having a cord running to your device, this shouldn't be an issue.
The 01512 comes with 4 sensors: temperature, humidity, wind speed, and rainfall. The display shows current conditions as well as min/max records for each sensor.
Wind Speed And Direction Sensor
To measure accurate wind speed, place the anemometer at a height of 33 feet. Otherwise, the obtained data will be unreliable. However, because it is a 5-in-1 sensor array, you won't have the option to install the anemometer separately;
Because of this, the device will underestimate wind speed by up to 30%.
With a wind vane, the station's range in wind direction is 0° to 359. Every 18 seconds, the console receives an update on wind speed.
Temperature and Humidity Sensor
This device's outdoor temperature range is -40 to 158°F. The accuracy is around 2°F.
That implies that if the real temperature is 26°F, the sensor may report anything from 24°F to 28°F. It also includes a radiation shield for its protection, which contributes to the continued accuracy of the outdoor sensor. The humidity sensor has a resolution of 1% and an accuracy of ±5%.
Precipitation
The accuracy range for rainfall is around 0.05″ per inch, which makes it a great tool for precise weather monitoring.  The self-emptying tipping bucket is another impressive feature that keeps the sensor clean and free of debris.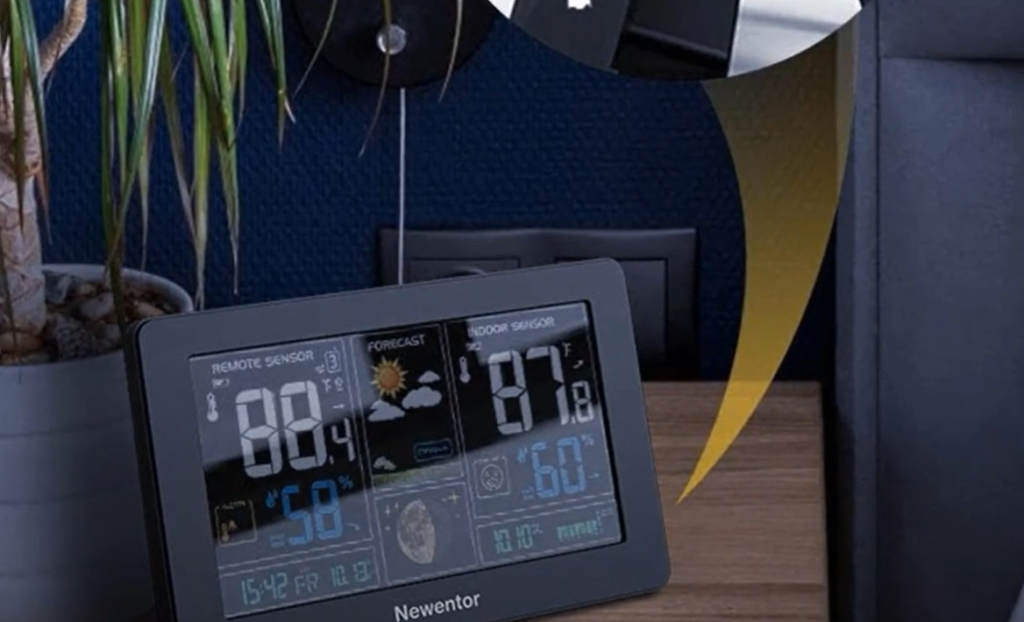 The sensor can measure rainfall amounts as low as 0.01″, which is helpful in determining if your area is experiencing a drought.
Installation
The 5-in-1 weather sensor array is simple to install. The package comes with mounting accessories to make the installation process go more smoothly.
The supplied mounting arm enables you to mount the array on any horizontal or vertical surface. In addition, you may even utilize a ¾-inch pole to install the sensors.
The indoor console display is available in both wall and tabletop styles. The station also comes with the necessary mounting hardware, except for a mounting pole, making installation simple. It doesn't require much upkeep because it is simply and effectively built.
Transmission
This wireless weather station has a transmission range of 330 feet. This is a distance that most individuals can manage.
The data may be transmitted through the walls via this device. The walls, on the other hand, can limit transmission range to about 100 feet.
The distance that the signal can travel is increased by utilizing repeaters. However, repeaters do have a high price tag.
The transmission can be interrupted by placing the device too close to a metal object. If this happens, simply move the device away from the metal object and restart it.
Accuracy
Although this device isn't as accurate as some of the more costly alternatives, it nonetheless offers a very good accuracy rate. A radiation shield has been included to ensure that the temperature reading is unaffected by the sun. It's no secret that increasing the temperature range improves the accuracy of a temperature sensor considerably.
Connectivity
The wireless weather sensor may immediately communicate with the interior console. It does not include any means of connecting to the internet, unfortunately. As a result, you won't be able to exchange data with others.
To use the internet function, you'll need an AcuRite smart hub weather station and additional AcuRite smart hub weather stations. To access weather data from any place in the world with the smart hub, you'll need a mobile or tablet. That means no more spending hours in front of the console to track the weather pattern.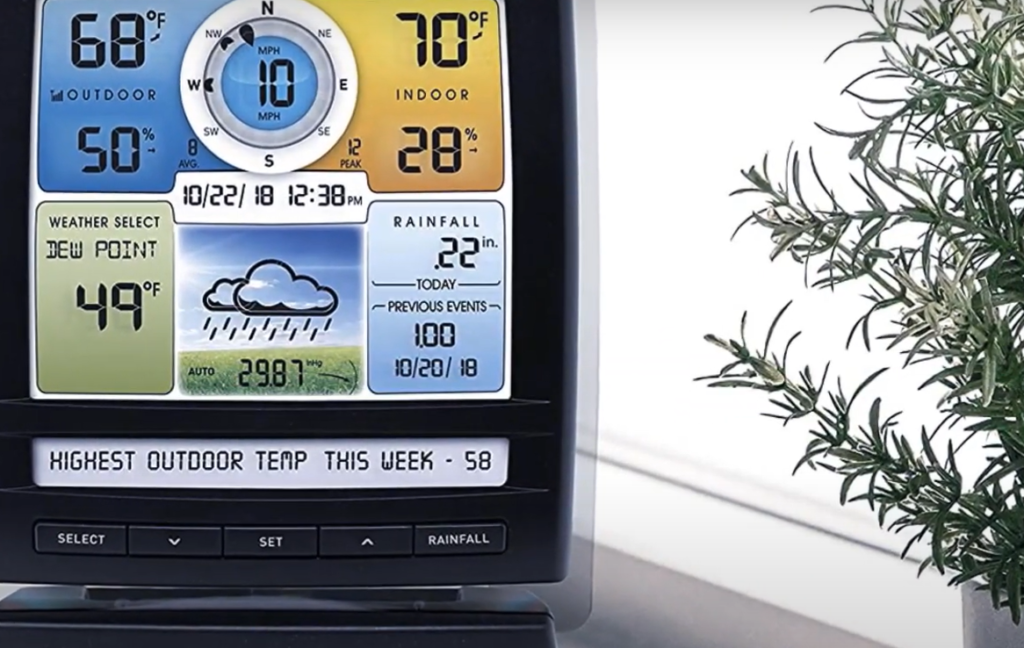 You may also collaborate with the weather community by uploading your data on the internet. It will also allow you to receive relevant weather information from around the country.
Design
The AcuRite 01512 is a well-made instrument. It's built to last and should survive for at least a few years. Some customers may find that the device is made of low-quality material.
The gorgeous colored screen boasts an auto-dimming brightness function, which adjusts the display's brightness to match the amount of natural light available.
The brightness can always be adjusted to your liking. In a matter of seconds, the screen displays a 12-hour weather forecast and transmits sensor data.
The bright colors illuminate the vivid display and show you the temperature, humidity, rainfall, barometric pressure, wind speed, wind direction, and 24-hour weather forecasts on the main screen.
The unit may be linked to a PC using a USB connection. You may get the AcuLink Internet-Bridge program if you want to check the weather remotely over the internet. It will allow you to stream weather data from the station anywhere on your smartphone, laptop, and supported portable device. The data can also be shared online on prominent weather websites.
The outdoor module is also waterproof and tough, withstanding all types of harsh and extreme weather without damage.
The AcuRite 5-in-1 Weather Station comes with battery-powered tools. These are not powered by the solar panel, as you can see. This is for the aspirating fan, which aids in accurate temperature readings.
Performance
Indoor and outdoor conditions are monitored and reported back to the main digital console unit by indoor and outdoor temperature, humidity, wind speed, wind direction, and rainfall sensors.
It transmits data at a rate of up to 330 feet or 100 meters and refreshes it every 18 to 36 seconds. It is simple to set up and includes built-in mounting options.
Because all of the sensors are combined into a single array, installation is simple. The integrated system has an excellent battery life and lasts around two years. This entails that you don't have to explore to install each remote sensor because only one is required; this is something we appreciate.
The Weather Ticker that broadcasts real-time measurements allows you to set alerts and alarms to notify you when any important variables are either greater or lower than the desired range.
The Weather Ticker option, which is included in the paid version of the App for Windows, Mac, and Android systems, allows one to replay recorded data right now. It also displays the moon phases from the new moon to the full moon as well as indoor comfort levels to show you where you should be comfortable.
Rainfall data, which is recorded on a daily basis, is collected and reported in terms of rainfall events. The rain collector is a self-emptying kind that empties full content automatically.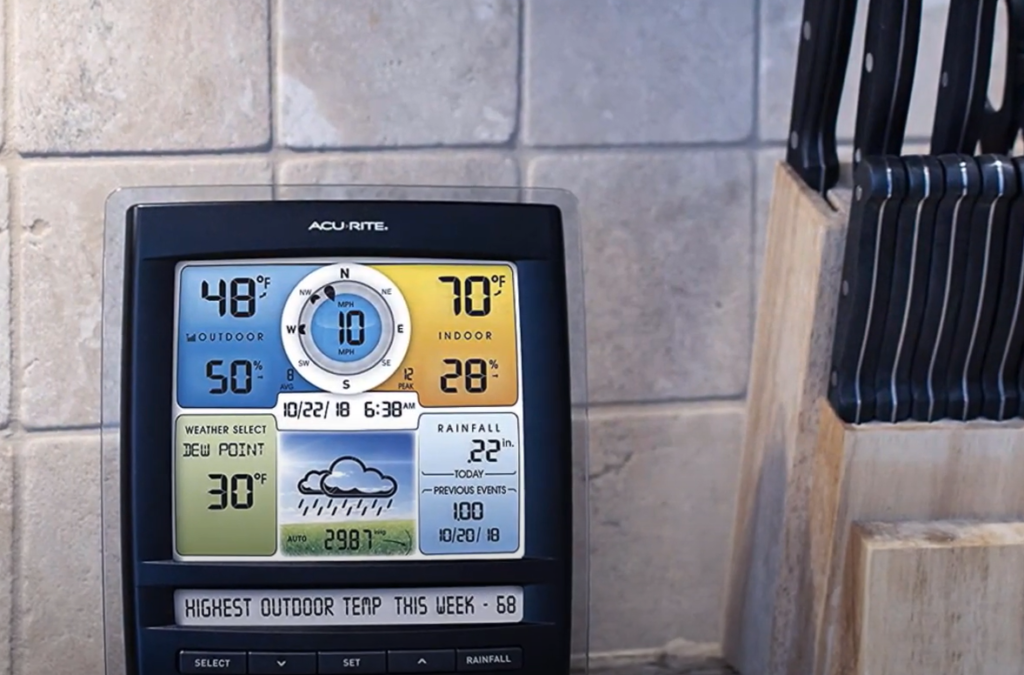 AcuRite's self-calibrated technology is not a gimmick, and it guarantees that you get the most precise and accurate readings.
The device is powered by four AA batteries or a solar panel. The 01512 comes with a multifunctional weather sensor that can measure indoor and outdoor temperature, humidity, wind speed, and direction. The rain collector is self-emptying and has a rainfall history function.
---
FAQ
Where should I mount this home weather station?
The outside unit can be installed in any location and at any time. If you're looking to conceal your solar panels, for example, on the top of your garage, this is a wonderful option. To attach the external device, such as a fence post (with several screws provided). The bracket may be placed on the side of a post or on top of a post.
The outside device is then secured to the mount with a tiny screw, and the unit is fastened to it.
Why is my AcuRite outdoor temperature not working?
AcuRite weather stations are very accurate and precise, but there are a few things that can affect the outdoor temperature reading:
One thing that can interfere with the sensor is direct sunlight. Make sure that your sensor is in a shady spot, away from any buildings or trees that could block the sun;
Another thing to keep in mind is extreme temperatures. If it's too hot or too cold outside, this can also affect the reading;
Lastly, make sure that the batteries in your AcuRite weather station are fresh. If they're old or dying, this will also impact the accuracy of the readings;
How long do AcuRite sensors last?
Assuming that you take proper care of your AcuRite weather station and its sensors, they should last you quite a while. The batteries, on the other hand, will need to be replaced every few months or so.
Why is my outdoor thermometer not accurate?
There could be a few reasons why your outdoor thermometer isn't accurate:
One reason could be that it's placed in direct sunlight. Make sure to place your thermometer in a shady spot, away from any buildings or trees that could block the sun;
Another thing to keep in mind is extreme temperatures. If it's too hot or too cold outside, this can also affect the reading;
Lastly, make sure that the batteries in your thermometer are new. If they're old or dying, this will also impact the accuracy of the readings;
How do you reset this AcuRite outdoor thermometer?
There is a manual reset option. It resets itself when the batteries run out (supposedly after 2 years with lithium-ion batteries) and you replace them.
To do this, remove the batteries for 30 seconds and then put them back in. The display will show all dashes for a few seconds before it goes back to normal.
You can also try a hard reset by holding down the "Set" button for 15 seconds. This should only be done if the manual reset doesn't work.
How do you calibrate this AcuRite outdoor thermometer?
It's readily adjustable if necessary, and the instructions for doing so are included in the instruction book.
Is this model a true color display?
The display has a semi-transparent color overlay that displays the information. That is why it is so bright and simple to read.
Does this unit allow viewing a continuous plot of temperature/wind/precipitation over time?
It may not, but it does track every so often and give you the present, every day, weekly, monthly, current year, and all-time highs and lows: temperature, humidity, and wind.
It only records the current barometric pressure and does not keep track of previous readings.
This must be repeated with each battery replacement.
How does it measure the rainfall?
There is a little cup that funnels the rain into and then it measures the amount of water that is in the cup.
How are the 01512 and 01036 models different?
The AcuRite 5-in-1 weather station, which includes an indoor and outdoor thermometer, was first released in 2015. Its successors are the AcuRite 01512 (the last year's model) and the AcuRite 01036 (the 2022 year's model). The primary distinction is that the newest model includes displays for temperature and previous highs/lows. Model 01512 has functioned flawlessly. Consider a color model with PC connectivity on sale as well.
Is it possible to add a lighting detector to this model?
No, it is not possible to add a lighting detector to this model.
Related Video: AcuRite 01512 Complete Setup Guide
Final thoughts
The AcuRite 01512 is not only a fantastic weather station, but it's also worth every penny. It features the most robust construction of any model in its class.
While there's no question about the station's accuracy and performance, the installation demands merit a special note. You don't need any sort of skilled assistance, and even first-timers won't have problems with installation or maintenance.
Setting up the weather station may be a pleasurable experience with an in-depth instruction book and numerous mounting choices.
---