---
Are you looking for a high-quality home weather station? If so, the AcuRite 01024M might be just what you are looking for. This station has many features that set it apart from the competition, including a color display, atomic clock synchronization, and more.
The AcuRite 01024M's atomic clock synchronization is another distinguishing characteristic. This ensures that even if there are power outages, your weather station's time is correct. The AcuRite 01024M may also preserve data for up to 30 days, allowing you to monitor your weather over time.
Overall, the AcuRite 01024M is a high-quality home weather station with many features that make it a great choice for anyone looking for an accurate and easy-to-use station.
In this review, weather station experts will take a closer look at these features and determine whether or not the AcuRite 01024M is the best home weather station on the market.
One feature that sets the AcuRite 01024M apart from other weather stations is its color display. The display shows current conditions, as well as forecasted conditions for the next 12 hours. The display is easy to read, even in direct sunlight.
Specifications:
The dimensions are 0.6 x 7.6 x 5.5 inches;
The solar-powered system;
Requires 8 AA batteries to work properly;
Digital LCD screen;
Multifunctional weather sensor;
Lightning sensor;
Barometric pressure with weather forecast;
Anemometer for wind direction;
Self-emptying rain gauge to measure rainfall;
Includes the mounting hardware and tabletop stand;
Has a power adapter;
Plastic case;
Accuracy is within 2 degrees Fahrenheit;
Limited 1-year warranty;
---
PDF Manual for AcuRite 01024M
Having trouble? Download PDF instructions for AcuRite 01024M.
---
Pros and Cons of AcuRite 01024M
The AcuRite 01024M is a multifunctional sensor that can measure 5 different weather forecast parameters. It has an HD digital display with easy readability, and a sleep mode for the night. The unit is solar-powered, and batteries are included. It also comes with an hourly trend graph, and the ability to scroll through multiple screens for different forecasts. The indoor/outdoor cycle can change every 15 seconds, making it a great choice for those who want accurate, real-time information. The unit can also measure barometric pressure and wind direction.
---
The Buyer's Guide
Main Features
5-In-1 Weather Sensor
The 5-in-1 Pro weather sensor is an integrated set of professional-grade remote sensors that measure temperature, humidity, wind speed, and rain. The thermometer has two exterior solar panels for powering an internal cooling fan, which is essential for accurate operation throughout the day.
The sensor is made to last under all kinds of harsh, strong, and extreme weather conditions. Its battery life is lengthy and does not need to be replaced for almost two years [1].
The anemometer is also noteworthy. It uses a cup design that can rotate in any direction, making it one of the most accurate wind sensors on the market.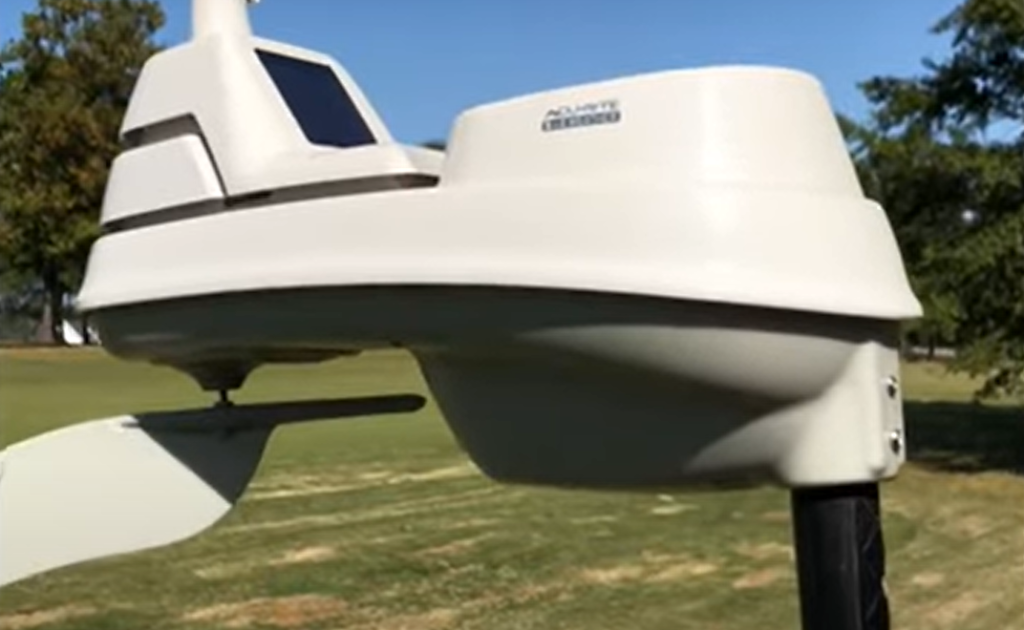 The 01024M weather station display is very user-friendly and easy to read, even from a distance. All the critical data is displayed on the main screen, including indoor and outdoor temperature and humidity, dew point, heat index, barometric pressure, rainfall totals, wind speed and direction, and more. You can also customize the display to show only the information that you want to see.
Lightning Sensor
The lightning monitor, which is included in the weather station kit, is stored separately. It may detect lightning strikes within a 25-mile radius of its installation site and measure temperature and humidity.
When lightning is detected, you are immediately notified by means of a number of alerts and notifications, as well as a loud audible alarm and warning light on the monitor so you can take appropriate precautions.
High-Definition Color Display
The main feature of this weather station is its high-definition TFT screen, where the current weather data are kept. The display will also show the time and date together with clear representations of weather conditions. It's worth noting that the display of information is extremely effective in improving the user experience.
The high resolution on this display allows you to read the information on the screen from up to 20 feet away. The screen provides sharp views both during outdoor usage and while camping [2].
Weather-Resistant Design
A weatherproof design is required for a device that has to deliver information on weather conditions. The AcuRite 01024 does not disappoint in this regard, and you can use it outside without risk of harm from rain, sunshine, or dust. The construction quality is also good enough to ensure that the weather station can withstand the elements in a tough outdoor environment.
To keep the bright light from hurting your eyes at night, you may always use the -sleep mode- for a dimmer display. The night mode also allows for time-based customization, allowing you to set when the mode should activate.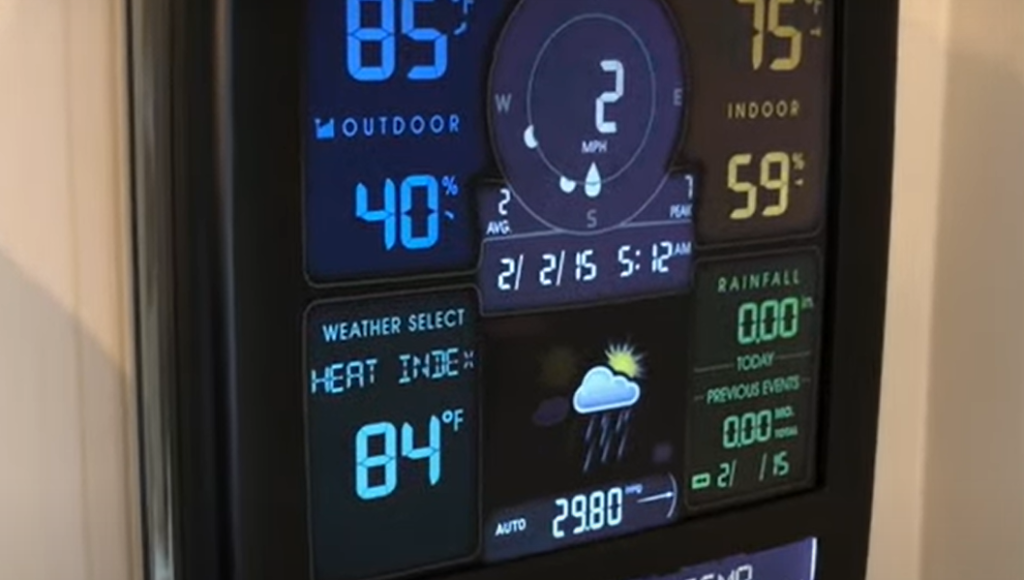 The unit's display has three dynamic dashboards. The outdoor weather dashboard shows the current weather, while the indoor conditions dashboard displays information about how your home is performing when it comes to temperature and humidity levels.
The designers of the AcuRite 01024M were thoughtful enough to consider historical weather patterns when developing this product. Current conditions usually make more sense than past trends, and the creators of the AcuRite 01024M certainly considered this. The device can keep track of up to a year's worth of daily and weekly highs and lows in terms of weather.
Storm Detection Capabilities
This lightning feature will come in useful for predicting storms, especially because it can detect them up to 25 miles away thanks to the lighting detection function. The number of strikes detected and how far off they have been noted are also shown on the screen.
You should be aware of the information provided below so that you can make an informed decision regarding whether or not a storm is approaching your area. You may also find out if the storm is drawing closer or not, allowing you to leave or prepare yourself appropriately. Daily, weekly, and monthly statistics on lightning strikes will also be available to you.
Customizable Alerts
You may receive a notification sound if any of the weather elements reach a certain threshold. In fact, you may even make your own custom alerts for humidity, rainfall, and other conditions you are tracking with this weather station. The sensor will begin beeping and blinking in the event of lightning detection.
The customizable alerts are fantastic for keeping you abreast of the conditions in your area without having to constantly check the device. You can set it up to notify you only when something important is happening, and this will free up your time to focus on other things.
Calibration Features
It's possible that there are certain circumstances surrounding your AcuRite Pro weather station that cause the readings to be off. If this is the case, you may adjust the temperature, humidity, and even pressure to assure correct readings.
Although the sensor comes with an internal fan to assist maintain an ambient "feels like" temperature for greater accuracy, this feature will not keep the thermometer from becoming too hot.
Additionally, the device is compatible with a number of smartphone apps that make it even easier to get all the information you need about your local weather conditions. The app will also notify you of any changes in the forecast so you can be prepared for what's to come.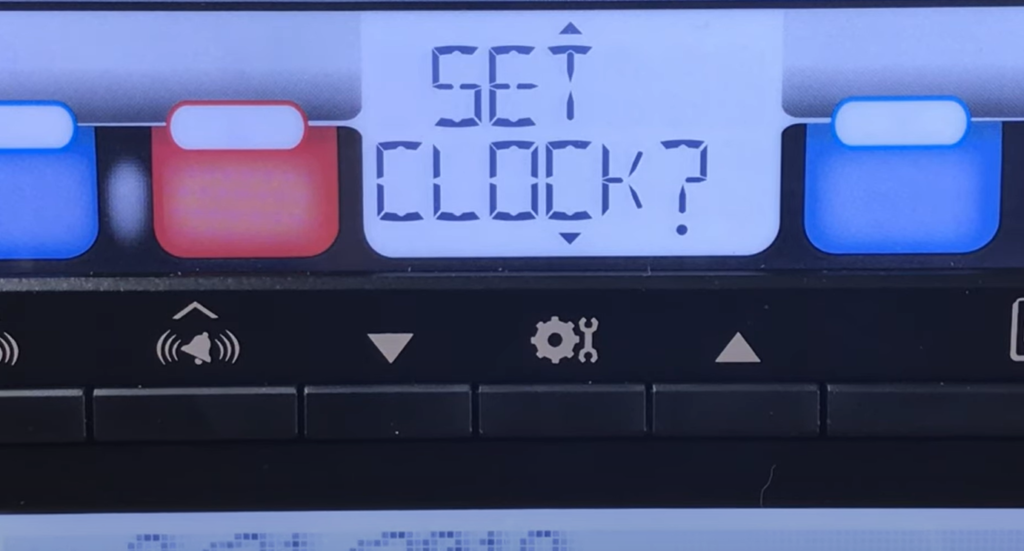 Overall, the AcuRite 01024M Weather Station is a great choice for those who want to keep track of their local weather conditions. It's easy to use and comes with a variety of features that make it a top-notch product.
Design
The durable and long-lasting construction quality of this weather station makes it a trustworthy investment. It comes with a one-year extended warranty, which is the icing on the cake.
The display is sharp, clear, and has a toggle to switch between various dashboards with outdoor weather, indoor air quality, and daily records.
The Weather Dashboard Plus likewise has a 12- to 24-hour weather forecast with 24 different forecast symbols. There's a lightning strike counter tool that displays the total of lightning strikes detected, as well as a weekly and monthly total.
You'll also get an average distance to the possible lighting strike zone. The indoor dashboard shows humidity, temperature, and high/low readings.
The display has temperature, humidity, and pressure gauges to show the conditions in the display area. Trend arrows indicate whether the variables are rising, falling, or remaining constant.
A humidity level meter indicates whether the environment is too dry, wet, or just right. If the measurements are excessively high or low, you may set alarms to assist you in taking the required steps to bring them into range if necessary.
Performance
The AcuRite 01024M is capable of monitoring the weather and displaying it on the screen. The device has Temperature, Humidity, Wind Speed, Wind Direction, Rainfall, and Lightning as weather data displayed. Apart from forecasting the weather, the AcuRite 01024M also displays your home's indoor comfort and conditions that will assist you in ensuring that your home stays at an appropriate temperature and humidity level.
This weather station will provide you with a precise description of both your indoor and outdoor situations on a daily basis. You may create alarms for changes in temperature, humidity, wind speed, rainfall, and other elements.
They can be seen via the display console or from below ground.
There's also a Sleep Mode, which lowers the display screen while still displaying all of the weather information.
There are two solar panels on the device. The aspirating fan is powered by these solar panels, which enhance ambient temperature accuracy throughout the day.
The lightning detector, which AcuRite has included in this model, is a new feature. The device includes a highly sophisticated lightning sensor that will detect and notify you if there are any near-term lightning strikes. When lightning strikes, the sensor will beep and flash on. You may mount the sensor nearly anywhere in your yard.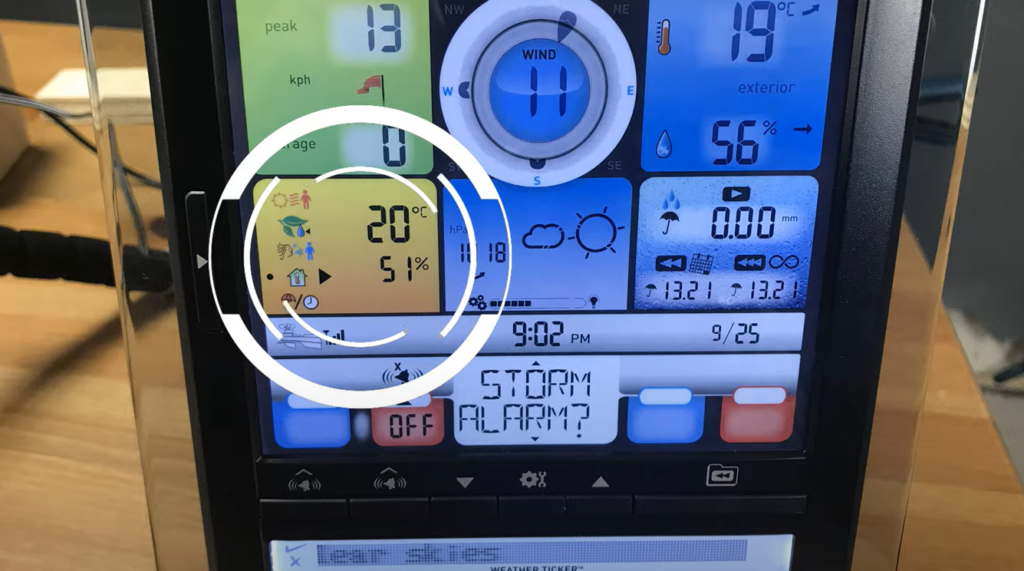 Many users are pleased with the weather station's clever and innovative design, which makes it simple to set up. The dashboards for outdoor, indoor, and historical data have also hit the mark with many clients. Many people are thrilled that the weather station is so easy to set up due to its unique and considerate design. Many consumers have appreciated the simple user experience, which shows all of the essential information with a few clicks.
The accuracy of the readings is also a plus for many consumers, especially given its modest price. Many users are unhappy because the console lacks a battery option. Some customers have reported issues with the rain gauge and wind speed feature. For some people, the lack of an internal battery on the display that can preserve time, date, and data during a power outage is also a problem.
Included with the indoor display unit is a self-emptying rain gauge that has a see-through tube to show how much rainfall has been collected. The bottom of the rain gauge can be unscrewed for simple cleaning and maintenance as well.
There's also an anemometer on the top of the weather station that tracks wind direction and speed. The information it collects is used along with barometric pressure readings to generate a 12 to 24-hour forecast.
---
FAQ
What is the most accurate home weather station?
There is no definitive answer to this question as accuracy can vary depending on a number of factors, including the quality of the sensor, where the sensor is located, and how often the data is updated. However, many users believe that the AcuRite 01024M is one of the most accurate home weather stations on the market.
How long does an AcuRite weather station last?
The average lifespan of an AcuRite weather station is about 5 years. However, with proper care and maintenance, your AcuRite weather station can last much longer. Here are some tips to help you get the most out of your AcuRite weather station:
Keep the sensor clean and free from debris;
Inspect the sensor regularly for any damage or wear;
Replace the batteries in the sensor every year;
Keep the display unit protected from extreme temperatures and direct sunlight;
By following these simple tips, you can ensure that your AcuRite weather station will provide accurate readings for many years to come.
How high should a weather station be mounted?
In general, you should mount your weather station as high up as possible. This will give it the most accurate readings.
Roof mounts can be dangerous if not done properly.
If you are mounting your AcuRite 01024M inside, a good rule of thumb is to mount it about 5 feet off the ground. This will ensure that it gets an accurate reading of the temperature and humidity inside your home.
How do I program my AcuRite weather station?
If you want to program your AcuRite weather station, a few things you need to do:
First, you need to find the right software for your device. There are many different types of AcuRite weather stations, so it's important that you find software that is compatible with your specific model. If you're not sure which software to use, you can contact AcuRite customer support for help;
Second, you need to connect your AcuRite weather station to your computer. Most AcuRite weather stations come with a USB cable that you can use to connect the device to your computer. If you're not sure how to connect the device, you can consult the manual that came with your AcuRite weather station;
Third, you need to follow the instructions on how to program your AcuRite weather station. The software that you use will likely have a step-by-step guide on how to program the device. Follow these instructions carefully so that you don't accidentally damage your AcuRite weather station;
Why does My AcuRite weather station make noise?
Some people have reported that their AcuRite weather station makes noise, especially when the wind is blowing.
A few different things could be causing this:
The anemometer (wind speed sensor) could be loose and rattling in the housing;
There could be something caught in the fan blades of the anemometer;
The outdoor temperature sensor could be loose and rattling against the housing;
If you're hearing a noise coming from your AcuRite weather station, try these troubleshooting tips:
Make sure all of the screws on the back of the unit are tight. This includes the screws holding down the batteries;
Check to see if there is anything caught in the fan blades of the anemometer. If there is, carefully remove it;
Make sure the outdoor temperature sensor is firmly seated in its housing. You may need to use a small amount of force to get it fully seated;
How long do batteries last in a weather station?
The battery life of a weather station depends on several factors, including:
The type of batteries used (rechargeable batteries will last longer than disposable batteries);
How often the unit is used;
What features are turned on (e.g., backlight, wireless transmission);
In general, you can expect the batteries in your AcuRite weather station to last for several months to a year.
If you find your unit is going through batteries more quickly than normal, try these tips:
Turn off any features that you don't need. For example, if you don't need the backlight, set it to "off";
Reduce the frequency of wireless transmission. You can do this by going into the "Settings" menu and selecting "Transmit Interval";
If you're using disposable batteries, try switching to rechargeable batteries. Rechargeable batteries will last longer and save you money in the long run.
Related Video: AcuRite 01024M
Final thoughts
When it comes to cost, AcuRite 01024 is a clear winner, with the high-quality weather detection capabilities that it offers its customers. That is obvious from this AcuRite Professional Weather Station review. This is a fantastic low-cost home or workplace weather station. It's even capable of delivering professional weather forecasting services.
Aside from the great price, the weather station can track up to 5 weather conditions with good accuracy.
The AcuRite 01024M is a great product to have when you want to keep track of the weather around you since it has an easy installation experience and flexibility when it comes to usage settings for the I-1D display.
The weather station also includes a lightning detection function, which is quite useful and uncommon among comparable products.
While the AcuRite 01024M Weather Station has a few drawbacks, it is undoubtedly one of the finest digital weather stations available right now.
---
References:
https://www.theweathermakers.org/acurite-01024m-pro-weather-station-review
https://geargadgetsandgizmos.com/acurite-01024-professional-weather-station-review