In an ideal world we'd all be basking in sunshine every day, but the reality is that some cities are simply sunnier than others. Want to know which cities are blessed with the most sunshine? Then this blog post is for you! In it, we'll explore the characteristics of warm sunny weather and look at a list of some of America's sunniest cities. Get your sunglasses ready – you're about to find out where to get your much-needed dose of vitamin D!
What Defines Sunny Weather?
Sunny weather is typically associated with clear skies, bright sunshine, and warm temperatures. It usually features an absence of clouds or precipitation.
Sunny days are often heralded by birds singing and a sense of warmth in the air that can be felt even when the temperature does not exceed 60 degrees Fahrenheit (15°C). The perfect sunny day for many people includes light breezes, low humidity, and comfortable temperatures ranging from about 65–80 degrees Fahrenheit (18–27°C). [1]
For some, this could also include a dip in the pool or a leisurely walk around the neighborhood! No matter what your definition of "sunny weather" may be, there's no denying that it definitely puts us all in an uplifted mood. With sunny weather comes the opportunity to enjoy the outdoors and explore activities such as swimming, picnicking, or just soaking up some much-needed vitamin D. Ultimately, sunny weather is the perfect backdrop for a fun day with friends and family. So let's all take advantage of those beautiful days and make some long-lasting memories!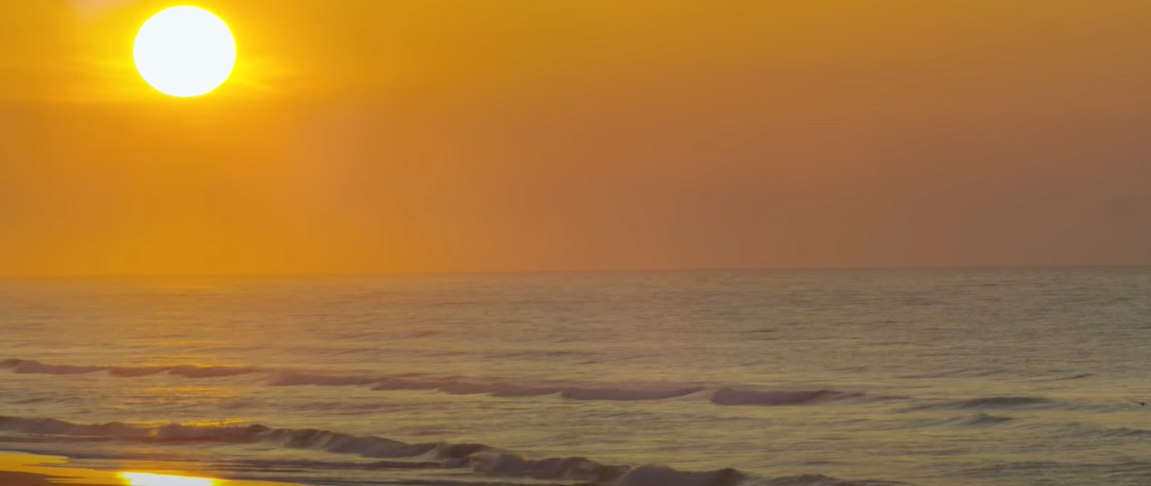 Why Do People Prefer to Live in the Sunniest Cities in the USA?
Living in the sunniest cities in the USA has its advantages.
The most obvious benefit is that people living in sunny cities are more likely to get higher amounts of vitamin D, which can boost mood and help protect against a range of illnesses. Additionally, exposure to sunlight may help improve sleep quality as well as reduce stress levels. Spending time outdoors has also been linked with improved mental health and happiness, so those living in sunny cities may experience better overall well being than those who live elsewhere. [2]
Finally, sunny cities often have numerous activities available such as parks, beaches, sports teams, and more which attract visitors from other places allowing social connections to form. People living in sunny cities tend to be surrounded by an abundance of natural beauty making it a great place for relaxation and leisurely strolls after work or school. [3]
How to Live Enjoyably in the Sunniest Cities?
Protect your skin by using sunscreen and wearing protective clothing when outdoors. Sunburns can be painful and damaging to your health, so make sure you use a high-SPF sunscreen with broad spectrum protection to keep the sun's UV rays from damaging your skin. Even on cloudy days or in cooler temperatures, the sun's rays are still strong enough to cause harm, so cover up whenever possible.
Drink plenty of water throughout the day to stay hydrated in hot climates. The combination of heat and humidity can quickly deplete your body's moisture levels, leaving you feeling tired and worn out more quickly than usual. Carry a water bottle around with you wherever you go to help replenish fluids and electrolytes.
Get out of the sun during peak hours, usually between 10 a.m. and 4 p.m., when sunlight is most intense. Take advantage of a shady spot in your backyard or on your patio for an afternoon break to avoid overexposure to the sun's rays.
Invest in window treatments that can reduce the amount of glare and heat coming into your home, such as blackout curtains, shades, blinds or tinted windows. This will help keep indoor temperatures more comfortable while also reducing energy costs associated with air conditioning and cooling fans.
Dress appropriately for warmer climates by wearing loose-fitting clothing made from lightweight fabrics like cotton or linen which will help keep your body cool on a hot summer day. Avoid wearing dark colors, which absorb more of the sun's heat, and instead opt for lighter colors like whites, pastels and beiges.
Take part in outdoor activities during cooler times of the day or night while still taking proper precautions with sun protection. Going for a run early in the morning or late at night can be an enjoyable way to stay active in sunny climates without getting too hot and uncomfortable during the peak hours of sunshine.
Visit local parks, beaches, lakes and other natural attractions which offer relief from the heat thanks to nearby bodies of water and shade provided by trees and foliage. Enjoying a picnic or leisurely stroll in nature can be a great way to escape the scorching sun and get away from it all.
Explore your city's cultural attractions, such as museums, art galleries, theaters, libraries and music venues. Taking time out to appreciate culture will help you better understand the area and take advantage of what it has to offer without needing to be exposed to direct sunlight for too long.
Take public transportation or carpool with friends when possible so you don't have to worry about being stuck in traffic or having the air conditioner running all day while driving around town. This can save both money on gas and energy while helping reduce emissions that contribute to global warming.
Finally, it can be helpful to establish a regular sleep and wake cycle which will help your body better adjust to the changing daylight hours in sunny climates. Developing healthy sleeping habits by setting an alarm for bedtime each night and getting up at the same time each morning can make a big difference in how much you enjoy living in the sunniest cities. [4]
Activities to Enjoy In The Sunniest Cities in the US
The US is full of cities that enjoy abundant sunshine throughout the year. These sunniest cities offer plenty of activities for outdoor enthusiasts to enjoy in the warm weather. Here are some ideas for ways to make the most out of the sunny days in these sunny US cities:
Go Hiking: Taking a hike outdoors is a great way to enjoy the fresh air and sunshine in many of these sunniest cities. Whether you're looking for an easy trail or a more challenging one, there's likely something nearby that fits your needs.
Visit Beaches: Many of America's sunniest cities are coastal towns, with miles of beaches and sand dunes perfect for soaking up some sun and fun. Whether you're in search of a relaxing day spent at the beach, or prefer an adventure-filled experience with surfing, swimming, and other water sports, you'll find what you're looking for.
Take a Road Trip: The sunny weather in these cities makes it ideal to hit the open road for some exploration. With breathtaking scenery around every corner, you are sure to have a memorable time on your journey.
Go Camping: There's nothing like spending the night under the stars after enjoying a long day out in the sunshine. Many of America's sunniest cities boast plenty of camping sites nearby perfect for making the most of the good weather.
Fishing: If you're up for some peace and quiet, why not take a fishing trip? Many of America's sunniest cities have excellent lakes, rivers or streams that are stocked with plenty of fish – perfect for an afternoon spent catching dinner.
Enjoy Local Attractions: Every city has its own unique attractions to enjoy in the sunshine. From amusement parks to outdoor concerts and festivals, there's sure to be something special around every corner when visiting America's sunniest cities. [5]
No matter what activities you decide to do, exploring any one of America's sunniest cities will be an unforgettable experience that you won't soon forget. Enjoy every minute out in the sunshine!
How to Prepare to Travel to Sunny States?
Check the weather: Knowing the weather for your destination will help you plan what to pack and when to go. Research ahead of time so that you have an idea of what type of climate to expect when you arrive.
Pack wisely: To ensure that your getaway goes as planned, make sure to pack appropriately for warm temperatures—full-length pants, flowy tops, sandals or flip flops and plenty of sunscreen are musts! Also consider bringing lightweight fabrics, such as linen or cotton, as these will be more comfortable in high temperatures than heavier materials like denim or wool. Additionally, if you'll be spending much time outside during your trip, make sure to bring a hat with a wide brim and sunglasses to protect your eyes from the strong rays of the sun.
Prepare for sunburns: Even with proper clothing and sunscreen, it's possible to get a sunburn during your vacation. To reduce your risk, be sure to apply sunscreen regularly throughout the day (even if it isn't sunny!). If you do end up with a burn, aloe vera gel can help soothe the skin—so make sure you pack some before you leave! [6]
Read up on local health guidelines: Different regions may have different regulations related to preventing illness or injury while traveling. Check out local health ordinances in advance so that you know what safety protocols are expected in each area. Also consider visiting a travel clinic for vaccinations and specialty medical advice before your trip to ensure that you're as prepared as possible.
Plan activities: To make the most of your vacation, create an itinerary beforehand so that you can prioritize what activities and sights you want to experience. Research attractions in advance to make sure they are open when you visit or if there are any special instructions for visitors. This will help ensure that your trip is both safe and enjoyable!
Book accommodations: Depending on where you're traveling, it might be beneficial to book your lodging ahead of time—especially during peak seasons when availability may be limited. Make sure the amenities align with what you need for a comfortable stay and that the location is in proximity to any activities you want to participate in.
Scope out transportation: It's important to plan how you will get around during your trip, as this can have a big impact on how much fun you have. Consider renting a car if you know you'll be exploring further away from your lodging, or look into local public transit options such as buses or trains for shorter distances. Have an idea of what routes are available before you leave so that getting around won't be a hassle when you arrive! [7]
Is It Worth Hiring a Tour Guide When Traveling to US Sunny Cities?
A tour guide can provide you with tips and information about the area that you may not be able to get otherwise. They can give insight on the best places to visit, eat, stay and shop. Tour guides will help plan out your trip so that you don't miss any of the city's top attractions or must-see sites.
Furthermore, they are familiar with local customs, which can save time and potential embarrassment from unknowingly making mistakes due to cultural differences. A professional guide will also add an extra level of safety in potentially unfamiliar surroundings as well as offer advice on how to avoid tourist traps or scams. With their knowledge of language barriers and currency exchange rates, they can even help you save money. Ultimately, hiring a tour guide will make your experience much more enjoyable and enriching.
The 16 Sunniest Cities in the USA
Miami, Florida
This city is popularly known for its amazing beaches and nightlife. The climate is tropical all year round with temperatures rarely dropping below 50 degrees Fahrenheit (10°C). Rain is common during the summer months, however sunshine hours are plentiful throughout the year. When visiting Miami, you can explore attractions such as South Beach or take a tour of Everglades National Park. There are also several museums and cultural sites to visit such as the Perez Art Museum of Miami or Vizcaya Museum & Gardens.
Las Vegas, Nevada
It doesn't get any sunnier than in Las Vegas! With more than 3,000 hours of sunshine each year, this city has something to offer no matter what season it is. There are many entertainment options available, from casinos and shows to nightclubs and restaurants. Popular attractions include the Fremont Street Experience, the iconic Bellagio Hotel & Casino, and the High Roller Observation Wheel. Plus, with more than 50 golf courses within a two-hour drive of Las Vegas, you can easily spend your days in the sun on the green.
Honolulu, Hawaii
This capital city of Hawaii enjoys an average of 270 sunny days per year due to its tropical climate. The warm temperatures draw people from all over the world for surfing, snorkeling or soaking up some rays at Waikiki Beach or Ala Moana Beach Park. After a day spent outdoors, take time to explore Chinatown or the Honolulu Museum of Art.
Phoenix, Arizona
This desert city is well known for its sunshine-filled days and mild winters. With over 300 sunny days per year, temperatures are warm all year round with seldom a need for winter clothing. If you're looking to relax in the sun take a trip to nearby South Mountain Park or Camelback Mountain. Meanwhile, downtown Phoenix offers plenty of shopping and entertainment options such as Heard Museum and the Musical Instrument Museum.
San Diego, California
Home to some of the best weather in America, you can expect up to 262 sunny days here each year! Plus, it's within easy reach of popular beach towns like La Jolla and Del Mar making it a great place for outdoor activities. There's also plenty to explore in the city itself, with attractions such as Balboa Park and SeaWorld San Diego. And make sure to sample some of San Diego's delicious Mexican cuisine while you're there!
Tucson, Arizona
This sunny desert town receives an average of 277 days of sunshine each year making it one of the sunniest cities in the US. Visitors can soak up rays at nearby Saguaro National Park or Sabino Canyon Recreation Area. When it comes to entertainment options, there are plenty of museums, galleries and music venues worth exploring. Alternatively, spend your days exploring the local Tucson cuisine or discovering the city's famous Mexican markets.
San Antonio, Texas
This city is located in south-central Texas and receives 249 sunny days every year. The city has a vibrant culture with attractions such as the Alamo, Riverwalk and Tower of Americas to explore. There are also plenty of entertainment options for all ages including Six Flags Fiesta Texas and SeaWorld San Antonio. For nature lovers, you can visit one of many nearby state parks or take a boat ride on Lake Travis.
Los Angeles, California
This vibrant city offers plenty of sunshine all year round with more than 300 sunny days annually! Plus, there are tons of entertainment options and attractions to explore like Universal Studios, the Hollywood Sign or the Santa Monica Pier. Shopping is also plentiful here with Rodeo Drive and The Grove being two of the most popular spots for luxury goods. [8]
New Orleans, Louisiana
This city enjoys plenty of sunshine throughout the year with average temperatures in the mid- to upper 70s (°F). During your visit, take time to explore its many attractions such as Bourbon Street, Jackson Square and Mardi Gras World. There are also numerous dining options including classic Creole cuisine and beignets from Café du Monde. Plus, you can catch some live music at any number of famous jazz clubs or music venues in town.
Tampa, Florida
With more than 240 sunny days each year, Tampa is the perfect destination for outdoor activities and entertainment. Popular attractions include Busch Gardens Tampa Bay, Florida Aquarium and Lowry Park Zoo. Plus, a trip to nearby Clearwater Beach or St. Pete Beach will give you an opportunity to soak up some rays on the white sandy beaches.
Dallas, Texas
Dallas enjoys more than 220 sunny days per year with average temperatures in the mid-70s (°F). There are plenty of things to do here such as visiting The Sixth Floor Museum at Dealey Plaza or catching a show at AT&T Stadium. Other popular attractions include Reunion Tower and Klyde Warren Park where you can enjoy some outdoor fun in the sun.
San Francisco, California
Despite its reputation for foggy weather, San Francisco enjoys an impressive 271 sunny days each year! With lots of outdoor activities to enjoy such as surfing at Ocean Beach or bird watching in Golden Gate Park, you can easily spend your days soaking up some sun. Plus, you can explore the city's many attractions such as Fisherman's Wharf or Chinatown for an unforgettable experience.
Houston, Texas
Situated in the heart of Texas, Houston enjoys a mild climate with plenty of sunshine throughout the year. There are numerous outdoor activities to take part in such as kayaking at Buffalo Bayou or strolling along Hermann Park. Additionally, there are a number of famous museums to visit including The Museum of Fine Arts and Space Center Houston.
Philadelphia, Pennsylvania
Despite its reputation for gray skies this city actually gets around 214 sunny days each year. While here, explore its many attractions such as the Liberty Bell or Independence Hall. Additionally, you can take a tour of the Philadelphia Museum of Art or head out to Valley Forge National Historical Park for some outdoor fun in the sun.
Portland, Oregon
Despite its reputation for Rainy weather, Portland actually gets an average of 201 sunny days per year. Relax in the sun at Forest Park or go on a scenic drive along the Columbia River Gorge to enjoy the stunning views. You can also explore some of Portland's many attractions such as The Grotto and Pittock Mansion or sample delicious local cuisine at any number of popular restaurants.
Seattle, Washington
This famously cloudy city enjoys around 190 sunny days each year making it one of the sunniest cities in America! Take advantage of this by exploring popular attractions such as the Space Needle and Pike Place Market. Plus, you can explore Seattle's unique neighborhoods like Capitol Hill or Ballard—each with its own unique atmosphere. [9]
FAQs
What is the USA's sunniest state?
The sunniest state in the United States is Arizona. According to data from the National Climatic Data Center, Phoenix, Arizona receives more sunshine than any other major city in the US. This makes it one of the sunniest cities in the world. Other states that experience higher levels of sunshine than most include California, Nevada, and New Mexico.
Where has the best weather in the US?
California has a lot to offer. With mild temperatures year-round and plenty of sunshine, it's no wonder that many people flock to its beaches and cities. The state is known for its Mediterranean climate, meaning you can expect warm summers and cool winters. Areas like San Diego, Los Angeles, and San Francisco all enjoy an average annual temperature around 65 degrees Fahrenheit.
Florida is another great option for those looking for a great climate. Thanks to its location near the equator, Florida enjoys hot temperatures during summer months with daily highs averaging out around 85 degrees Fahrenheit. In wintertime, temperatures drop to more pleasant levels – typically ranging from 50-70 degrees Fahrenheit depending on the location.
What city in the US has the least sunny days?
It is Seattle, Washington. On average, Seattle gets about 155 days of sunshine per year – that's less than half what other cities receive. The lack of consistent sunlight has a major impact on Seattle's climate and weather patterns. It's not uncommon for rainy or foggy conditions to persist for weeks at a time. Despite this, however, Seattle is still one of America's most vibrant and popular cities thanks to its stunning natural beauty and abundance of outdoor activities.
Does Colorado have more sunny days than Florida?
No. In fact, it is a bit of a misconception that Colorado has more sunny days than Florida. While Colorado may have more clear days with fewer cloud cover, the average number of sunny days per year in both states is relatively similar.
Useful Video: 10 Sunniest Cities In The United States.
Conclusion
We've certainly taken a look at the United States' sunniest cities. It's not hard to see why these cities are great places to live or why they are popular vacation spots for many. People who decide to take a trip to any of these cities will find stunning weather and even more stunning scenery and activities. From cultural shows, to outdoor activities, there is something here for everyone. Living in one of these sunniest cities might be the perfect fit if you're looking for a change in climate and lifestyle. So the next time you're deciding where your destination should be – consider your options carefully and remember that these sunny US cities offer something very special: friendly people, amazing locations, and unbeatable weather!
References:
https://www.seattlemet.com/news-and-city-life/2020/02/what-exactly-counts-as-a-sunny-day
https://medium.com/in-fitness-and-in-health/why-moving-to-a-sunny-place-is-better-for-your-health-5fa169d7cd96
https://www.trafalgar.com/real-word/sunshine-and-happiness-7-ways-weather-influence-mood/
https://bramlettresidential.com/blog/the-7-health-reasons-you-should-live-in-a-sunny-state/
https://skyaboveus.com/climbing-hiking/Fun-Things-to-Do-When-Its-Sunny-Outside-with-Boyfriend-Husband-Wife-Girlfriend-Alone-Broke-Children-Kids
https://www.lavenderandlovage.com/2021/12/11-tips-for-winter-travel-to-sunny-destinations.html
https://mysmalltravelguide.com/tips-on-how-to-travel-in-heat-and-survive/
https://www.moving.com/tips/sunniest-cities-us/
https://travelbucketlist.xyz/sunniest-cities-in-the-us/